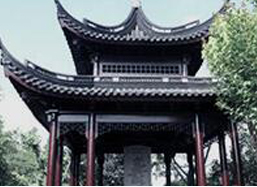 Guyi Garden, located at NanXiang town in Jiading district, belongs to the AAAA level group of national tourist attractions. It is also one of the oldest tourist attractions of Shanghai. Guyi Garden was built by Ming Siji, an appointed officer in Henan province during the reign of Jiajing Emperor (1522-1566) in the Ming Dynasty. It was originally named "Yi garden". The name was inspired by the poetic essays in two books called "Si Jing" and "Qin Fu". "Yi" here means a beautiful sight of bamboo. The garden was designed by Zhu Sansong, a well-known bamboo-carving master living in the Ming Dynasty. It was originally only 0.67 hectare (about 1.6 acre) in size. The garden was transferred to an official called Li Yizhi, and then to the families of Lu and Li.
In the year 11 of Emperor Qianlong in the Qing Dynasty (A.D. 1746), the garden was sold to Ye Jing who lived among DongTing lakes. He rebuilt and renamed it "Guyi Garden". Locals collected funds and bought the garden in order to donate it as a state Daoist temple in the year 53 of Emperor Qianlong (A.D. 1789). During the reign of Tongzhi Emperor and Guangxu Emperor, halls, corridors and a tea room were added to the garden. It became a place for worship and recreation.
After the founding of the People's Republic of China, the garden was reconstructed and expanded several times. In 2009, the garden was rebuilt and enlarged to an area of about 6.67 hectare (about 16.57 acres). The garden was divided into four scenic sections. They are Yi Garden (old garden), Flower Fragrance Park, Crane in Stream Pond, and Moonlit Bamboo Park. With unique artistic conception and landscape, the garden presents an image of beauty, delicacy, elegance, and simplicity. Tang dynasty stone pillar, Song dynasty universalist tower, South Hall, Little Sound Attic represent precious relics and are a part of the history of the garden, attracting people to explore the ancient culture.